The Story
Dutch immigrant, Harry deLeyer, journeyed to the United States after World War II and developed a transformative relationship with a broken down Amish plow horse he rescued off a slaughter truck bound for the glue factory. Harry paid eighty dollars for the horse and named him Snowman. In less than two years, Harry & Snowman went on to win the triple crown of show jumping, beating the nations blue bloods. They were famous for their day and traveled around the world together. Their chance meeting at a Pennsylvania horse auction saved them both and crafted a friendship that lasted a lifetime. Eighty-six year old Harry tells their Cinderella love story firsthand, as he continues to train on today's show jumping circuit.
Harry deLeyer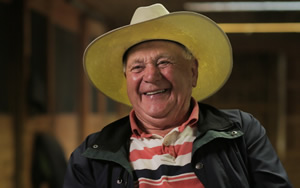 Harry deLeyer grew up working on his family farm in Holland. After World War II, Harry and his wife immigrated to the United States where he was offered a job as a riding instructor at the exclusive Knox School in Long Island New York.
Harry's career was catapulted by Snowman and he went on to become one of the most successful riders and trainers in America. He represented the United States at the World Championships in Sweden in 1983 and was recognized by the United States Equestrian Foundation with a Pegasus Medal of Honor in 2002 for his lifetime contribution to the sport.
Now 85, the "Galloping Grandfather," as he is known around the world, still rides and trains, based out of his farm in Virginia.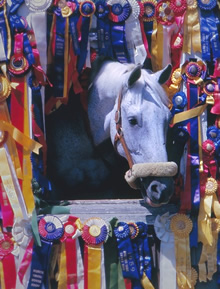 Snowman
Less than two years out of the Amish plow fields, Snowman won the 1958 horse show jumping Triple Crown — the American Horse Shows Association Horse of the Year, Professional Horseman's Association Champion and Champion of Madison Square Garden's Diamond Jubilee.
Snowman appeared on the most popular game show of the 1960's, "To Tell the Truth" and on "Who Do You Trust" with Johnny Carson. He had his own fan club, he was profiled twice in Life magazine and was the subject of three best-selling books, including the 2011 NY Times Best-Seller, The Eighty-Dollar Champion.
Snowman retired from competition in 1962 to Harry's farm in Long Island where he lived until he died in 1974. He was inducted into the Show Jumping Hall of Fame in 1992.
The Team
Ron Davis
(Director/Producer) Ron directed & produced the original HBO feature documentary, MISS YOU CAN DO IT, which aired in June 2013. In 2010, his feature documentary, PAGEANT, garnered more than 10 film festival awards and premiered on The Sundance Channel. Ron's first two short narrative student films earned him a top-ten finalist spot in the 2004 Esquire Magazine Celluloid Style film competition.
Nancy Kennedy
(Editor) Nancy has edited many award winning films, including Sundance Grand Jury winner WHY WE FIGHT, FOR THE BIBLE TELLS ME SO, GREGORY CREWDSON: BRIEF ENCOUNTERS, SHE'S BEAUTIFUL WHEN SHE'S ANGRY, WHEN THE DRUM IS BEATING, ORCHESTRA OF EXILES, and WHO DOES SHE THINK SHE IS? Nancy has also worked for all the major networks on such series as American Experience, National Geographic, Saturday Night Live, and others.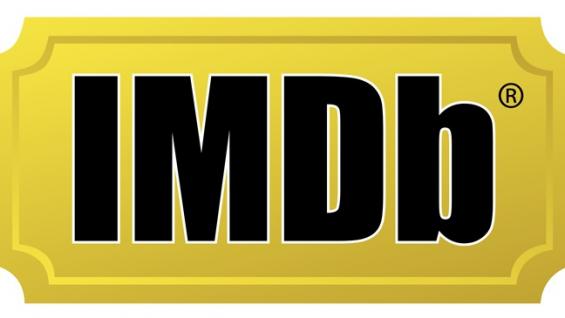 Clay Westervelt
(Director of Photography/Producer) Clay filmed the Emmy-winning documentary THE LEGEND OF PANCHO BARNES and THE HAPPY BOTTOM RIDING CLUB, as well as the Grammy-nominated JOHNNY CASH'S AMERICA This film is Ron and Clay's third feature documentary project together. Clay and Ron collaborated on MISS YOU CAN DO IT (HBO) and PAGEANT (The Sundance Channel).
Imaginaut Entertainment
Joel Goodman & Elik Alvarez
(Composers) Emmy winning composer Joel Goodman has scored over 100 films and television programs that have received 4 Oscar nominations, 15 Emmy awards and over 25 Emmy nominations. He has collaborated with an impressive array of distinguished directors and producers including Wong Kar-wei, Neil LaBute, Kevin Spacey, Albert Maysles, Andrew Jarecki, Barbara Kopple, Rachel Grady, Michael Epstein, Oren Jacoby, Irene Taylor Brodsky, Marshall Curry, Sebastian Junger and Fisher Stevens.
Elik has written music for many of the newest Sir David Atenborough's 3D and IMAX documentaries, including the BAFTA nominated film Kingdom of Plants 3D which won Best Documentary score at the 2013 International Film Music Festival Provincia de Cordoba, Spain. His latest Attenborough film Conquest of The Skies 3D, began airing on January 1st 2015 through Sky 3D and Sky 2D
Nancy Knox Talcott
(Producer) Nancy was as an associate producer on the Academy Award® nominated HBO documentary, GOD IS THE BIGGER ELVIS, as well as MISS YOU CAN DO IT. She is currently the coordinating producer on "The President's Gatekeepers" a multi-part documentary series on the role of the WH Chief of Staff from LBJ to the present, responsible for all the archival footage.
Karin Reid Offield
(Executive Producer) Karin produced "Jumpers", a documentary about the world of equestrian show jumping. She was the Executive Producer of TV's AMERICA'S NEXT EQUESTRIAN STAR, sponsored the 2005 Las Vegas World Cup Dressage Finals, and is the co-founder of The Dressage Foundation's Equestrian Fundraising School. Karin is the owner and former rider of the world famous Dressage Stallion LINGH, and is now managing his international breeding career
Paul Winston Blavin
(Executive Producer) Paul is the CEO of Graceful Light Entertainment, which is committed to harnessing the power of film to inspire hope, create awareness of critical human issues and, ultimately, compel positive social action. Prior to merging his philanthropic and career interests to form Graceful Light, Paul was a successful financier for close to 30 years. Paul is an Executive Producer of the new work-in-progress documentary on the subject of college campus rape, from Amy Ziering and Kirby Dick, makers of the 2012-13 Academy Award® nominated film Invisible War.
Partners